What Else Have We Been Up To?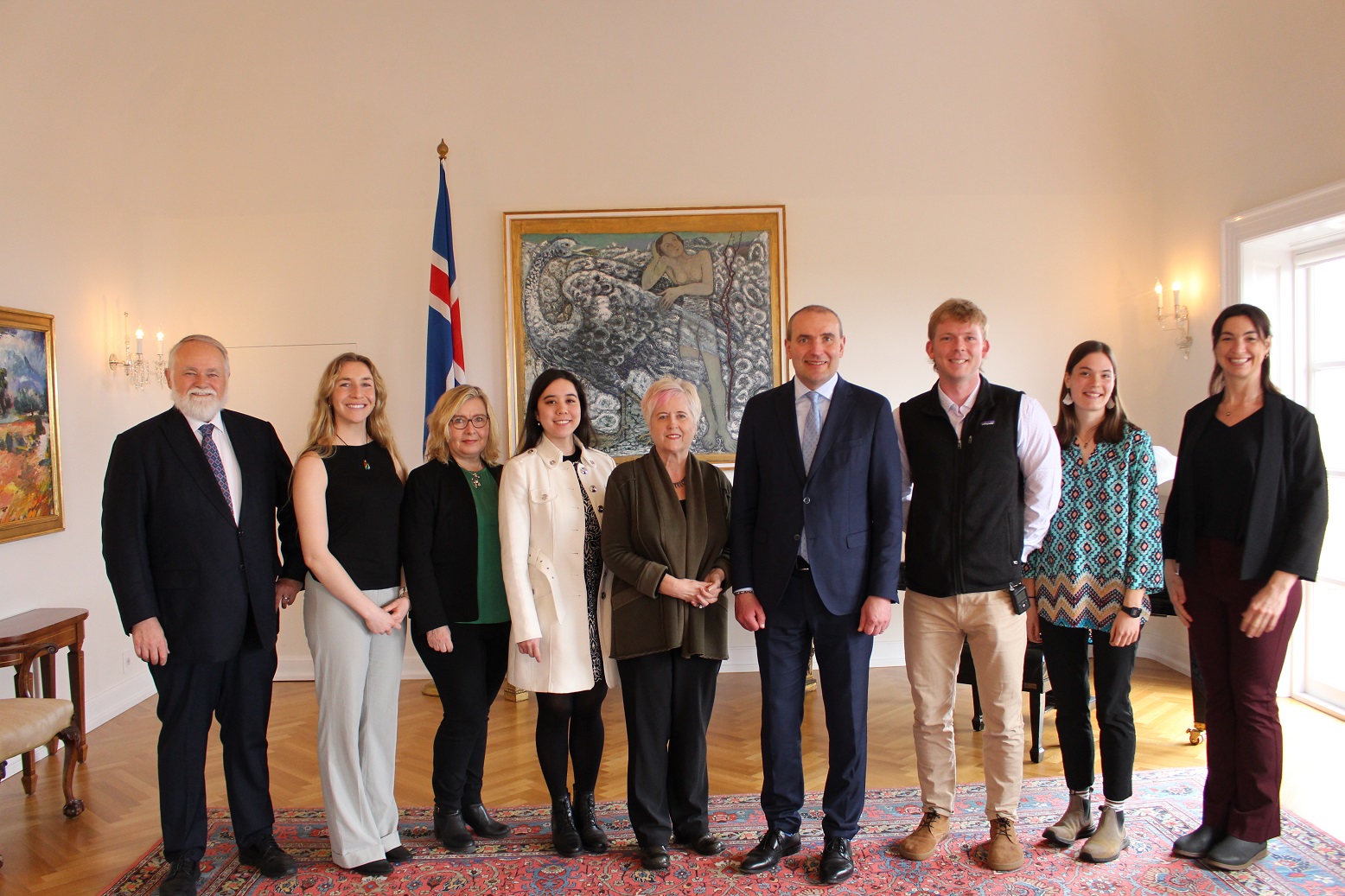 A lot has happened since our last newsletter. Allow us to give you a short overview of some of the things that have been going on in the last months…
Grantee Enrichment
During the academic year, the Commission organizes monthly enrichment events for U.S. grantees to give them insights into parts of Iceland they might not otherwise experience. From November to April, we had a variety of such events, including, for example, an Icelandic cooking class, attending a women's handball match and the highlight of the season, a visit to the President of Iceland at his official residence, Bessastaðir.
Fulbright Forum – Grantee Final Presentations
At the end of their grant period, every Fulbright grantee gives a final presentation about their time in Iceland. Three short Fulbright Forums were held throughout the year, two in December and one in April, where five scholars in total discussed their research and teaching. At the final Fulbright Forum event in May, the five fellows and two scholars who were in Iceland all winter presented their work and talked about the diverse research and studies they undertook throughout the year, as well sharing their experiences of living and integrating into Icelandic society.
You can watch recordings from all the Fulbright Forums on the Fulbright Iceland YouTube page.
U.S. University Student Visits to the Commission
Last spring, the Fulbright Commission welcomed two U.S. undergraduate student groups on travel abroad courses. A group of students from Indiana University Bloomington visited the Commission in March and we received students from Florida International University in May. These visits were organized by Fulbright alumni Priscilla Barnes and Lukas Danner, respectively. At the Commission the students were given lectures on Icelandic society and Fulbright opportunities for students.
EU-NATO Seminar in Brussels and Luxembourg
In March, Fulbright Belgium hosted the annual EU-NATO seminar in Brussels and Luxembourg. This is a four-day seminar focusing on the European Union and NATO, giving U.S. Fulbrighters in Europe a chance to learn about structure and function of these organizations. Representing Iceland was U.S. Fulbright fellow Brittaney Key, who spent 2022-2023 studying at the University Centre of the Westfjords. Participants met with the U.S. Ambassador in Luxembourg and officials at the U.S. Mission to the EU, and officials at EU institutions and NATO. This was also a great opportunity to connect with Fulbrighters and alumni from across Europe and learn about their experiences.
EducationUSA REAC Site Visit
Fulbright Iceland values greatly its cooperation with EducationUSA and the EducationUSA Advising Center operated by the Commission is an important part of our work. In mid-June, we had the pleasure of welcoming EducationUSA Regional Education Advising Coordinatior (REAC) Melissa Dechamps on a site visit to the Fulbright Commission and EducationUSA Advising Center. We had three days of productive discussions and valuable training, which will allow us to improve our services to Icelandic students.
President of Columbia University Teachers College Visits the Commission
In June Fulbright Iceland had the pleasure of hosting Thomas Bailey, President of Teachers College, Columbia University, and Fulbright Iceland 2007 scholar alumnus John Allegrante, Charles Irwin Lambert Professor of Health Behavior and Education at Teachers College, for discussions with Executive Director Belinda Theriault.
Fulbright Iceland has played a key role in developing partnerships between Teachers College and higher education counterparts in Iceland, providing opportunities for both scholars and students. As these partnerships have blossomed, they have led to deeper engagement that benefits both the United States and Iceland. The parties had wide-ranging discussions on Fulbright, higher education, current trends, and potential opportunities for further cooperation and collaboration.