Thanksgiving 2022 – Save the Date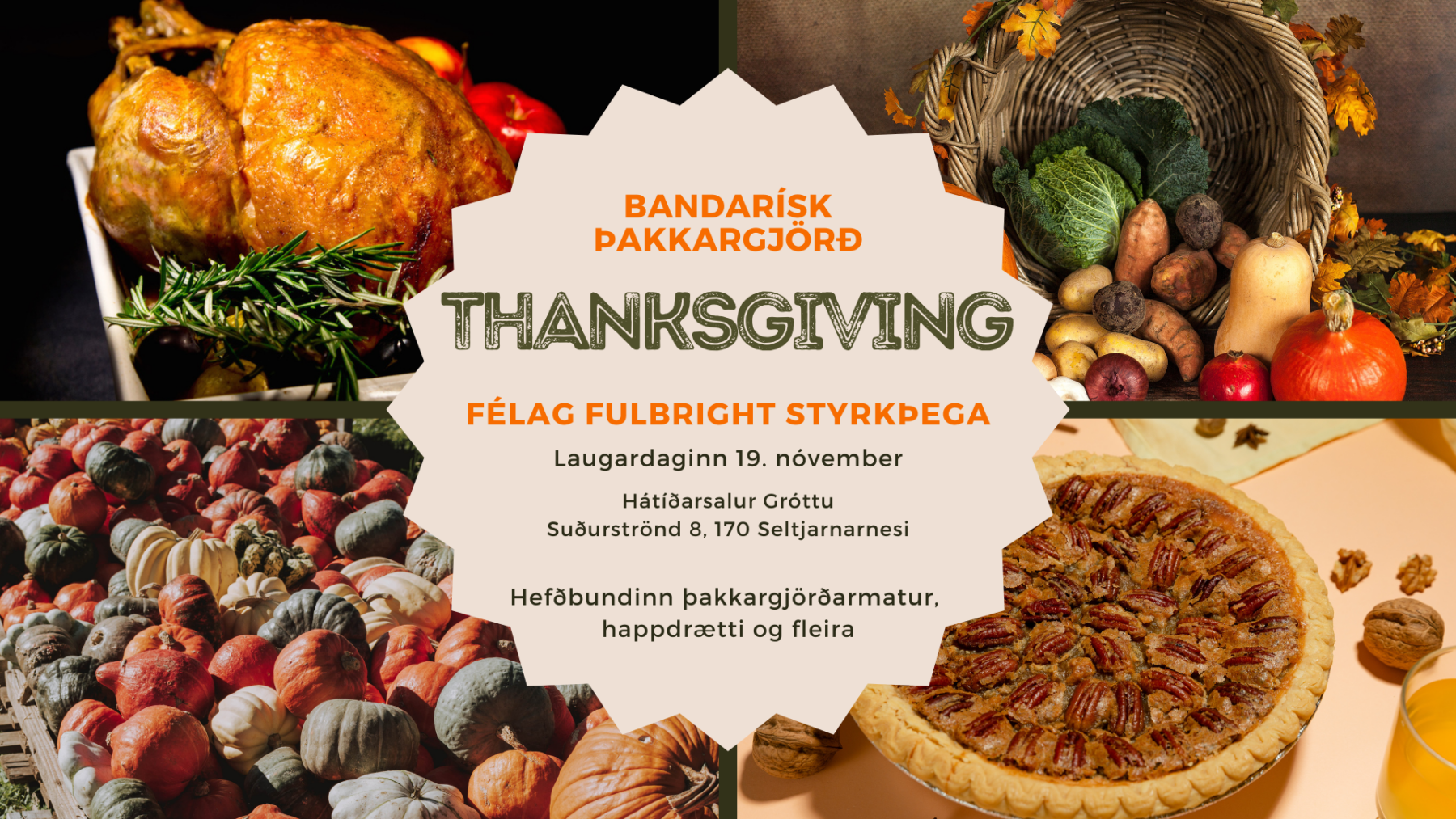 Bandarísk þakkargjörð – Thanksgiving
Laugardaginn 19. nóvember verður Þakkargjörðarhátíð Félags Fulbright styrkþega haldin í Hátíðarsal Gróttu (Suðurströnd 8, 170 Seltjarnarnesi).
Sérstakur heiðursgestur verður Carrin F. Patman, sendiherra Bandaríkjanna á Íslandi.
Miðasala er hafin á Tix.is og er miðaverð 8.500 kr. Innifalið í miðaverði er fordrykkur (hefst 18:30) og þriggja rétta hefðbundin þakkargjörðarveisla með öllu (hefst 19:00) ásamt einum miða í happdrætti FFSÍ.
Happdrættismiðar verða einnig til sölu á staðnum sem hluti af fjáröflun en allur ágóði rennur til Fulbright-styrkja fyrir íslenska námsmenn. Hátíðin er þekkt fyrir glæsilega vinninga en meðal vinninga eru miðar á Vínartónleika Sinfóníuhljómsveitar Íslands, bröns á Hnoss, gjafabréf á Íslandshótel, gjafabréf á Messinn Restaurant, sokkar frá Farmers Market og ferð fyrir allt að 19 manns með Thors Travel í Þórsmörk, Landmannalaugar eða Fimmvörðuháls.
Þar sem drykkir eru ekki seldir á staðnum er gestum boðið að hafa drykki meðferðis. Hægt er að óska eftir vegan valmöguleika við miðakaup en slíkar óskir þurfa að berast minnst 5 dögum fyrir viðburð. Vegan valmöguleikinn er dýrindis rauðrófu Wellington.
Athugið að síðast þegar þessi viðburður var haldinn seldust miðar upp þannig við hvetjum fólk til að kaupa miða sem fyrst! Öll velkomin, óháð tengslum við Fulbright eða Bandaríkin.
—–
The annual Fulbright Iceland Alumni Thanksgiving celebration will be on Saturday November 19 at Grótta banquet hall (Suðurströnd 8, 170 Seltjarnarnes).
Special guest of honor will be U.S. Ambassador Carrin F. Patman.
Tickets are ISK 8.500 and are available from Tix.is. Included in the ticket price is a pre-drink (starts at 6:30PM), three course traditional Thanksgiving dinner (at 7:00PM), and one raffle ticket for the Fulbright Alumni raffle.
Additional raffle tickets will be sold on the evening as a fundraiser, but all proceeds go to Fulbright grants for Icelandic students. Among raffle prices are tickets for the Icelandic Symphony Orchestra, brunch at Hnoss, gift card at Iceland Hotels, gift card at Messinn Restaurant, socks from Farmers Market and a trip for up to 19 people with Thors Travel to Þórsmörk, Landmannalaugar or Fimmvörðuháls.
As no drinks will be sold at the event, guests are welcome to bring their own. You can select a vegan option when you buy, but you have to do so at least 5 days prior to the event. The vegan main will be a beetroot Wellington.
Note that the last Thanksgiving celebration sold out, so we encourage people to purchase tickets soon! Everyone is welcome, regardless of connection to Fulbright or the U.S.