Þakkargjörðarhátíð 18. nóvember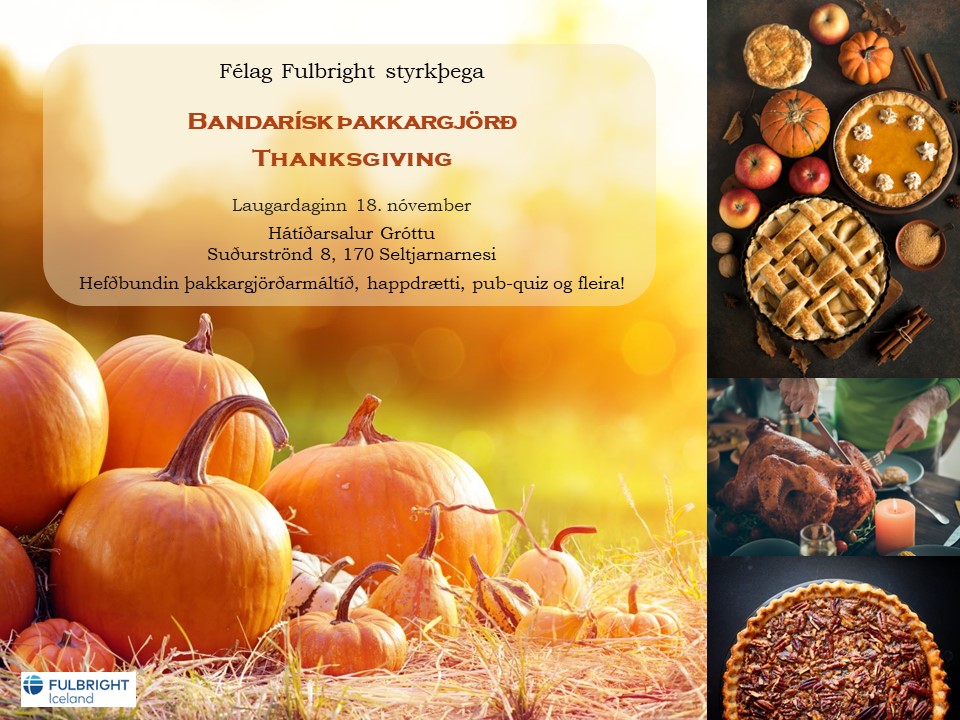 Fulbright Iceland Alumni Association Thanksgiving Celebration
Laugardaginn 18. nóvember verður þakkargjörðarhátíð Félags Fulbright-styrkþega á Íslandi haldin í hátíðarsal Gróttu að Suðurströnd 8 á Seltjarnarnesi.
Miðasala er hafin á Tix.is
Innifalið í miðaverði:
· Þriggja rétta þakkargjörðarhlaðborð að bandarískum sið.
· Einn miði í happdrætti FFSÍ.
Happdrættismiðar verða einnig til sölu á staðnum sem hluti af fjáröfluninni. Hátíðin er þekkt fyrir einstaklega glæsilega vinninga en meðal vinninga í ár eru:
• Gjafabréf fyrir tvo á Hótel Rangá & þriggja rétta a la carte máltíð
• 2 eintök af bókverkinu Meira Ástandið (Quite the Situation)
• Gjafabréf á Circuleight Interactive sýningu í Hörpu
• 2 miðar á Vínartónleika hjá Sinfóníuhljómsveit Íslands
• 2 vinningar frá Farmers Market
• Gjafabréf í Brynju ísbúð
• 3 gjafakörfur frá Nóa Síríus sem innihalda bökunarvörur
• Gjafabréf í Bóksölu stúdenta
Allur ágóði rennur til Fulbright-styrkja fyrir íslenska námsmenn.
Þar sem drykkir eru ekki seldir á staðnum er gestum boðið að hafa drykki meðferðis.
Hægt er að óska eftir vegan valmöguleika við miðakaup en slíkar óskir þurfa að berast minnst 5 dögum fyrir viðburð. Vegan valmöguleikinn er dýrindis hnetusteik.
Þessi árlegi viðburður á til að seljast upp svo við hvetjum fólk til að kaupa miða sem fyrst!
Öll velkomin, óháð tengslum við Fulbright eða Bandaríkin.
—–
The annual Fulbright Iceland Alumni Thanksgiving celebration will be held on Saturday November 18 at Grótta banquet hall (Suðurströnd 8, 170 Seltjarnarnes).
Tickets can be purchased from Tix.is
Included in the ticket price:
· Three course traditional Thanksgiving dinner .
· One raffle ticket for the Fulbright Alumni raffle
Additional raffle tickets will be sold on the evening as a fundraiser, but all proceeds go to Fulbright grants for Icelandic students.
Among this years raffle prizes are:
• Stay at Hotel Ranga for two with three course a la carte meal
• Two copies of the book art Meira Ástandið (Quite the Situation)
• Vochers for Circuleight Interactive in Harpa
• 2 tickets for Ice­land Sym­phony's Viennese concerts
• Prizes from Farmers Market
• Vouchers at Brynja Ice cream
• 3 gift baskets from Nói Síríus with baking goods
• Vouchers for Bóksala stúdenta
As no drinks will be sold at the event, guests are welcome to bring their own.
You can select a vegan option when you buy, but you have to do so at least 5 days prior to the event. The vegan main will be a nut roast.
Note that tickets to the Thanksgiving celebration usually sells out, so we encourage people to purchase tickets soon!
Everyone is welcome, regardless of connection to Fulbright or the U.S.