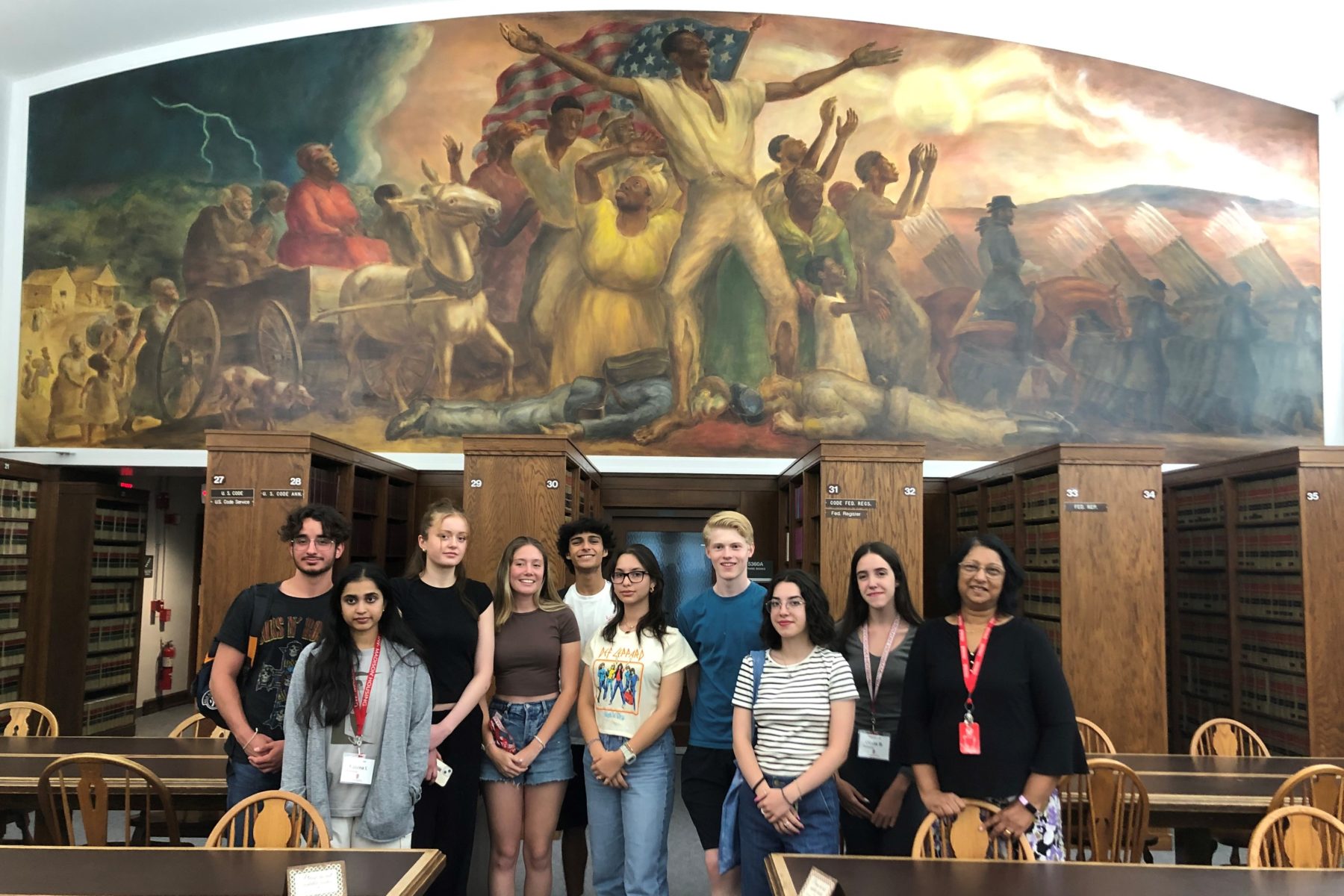 Eybjört and Þór with fellow EducationUSA Academy students at UW-Madison Law Library
Summer programs in the United States are back in full force after a few years of being mostly virtual. In the summer of 2023, we at the Commission were thrilled to be able to send three students on such programs.
Fulbright Iceland offers an opportunity for an Icelandic undergraduate student to participate each summer in the Study of the U.S. Institutes (SUSIs) for Student Leaders. This year, Fulbright Iceland offered a spot in the Summer Institute on Environmental Issues. There were many deserving applicants, but the Fulbright Board of Directors chose Embla Rún Halldórsdóttir, political science student at the University of Iceland, to represent Iceland and the Commission. The seminar took place at Shippensburg University in Pennsylvania, where Embla and fellow students from other European countries learned about climate change through the lenses of watersheds, food systems, and energy and environmental policy in South-Central Pennsylvania. The group connected with diverse environmental organizations to develop their understanding of the environment and its intersectionality with politics, race, culture, gender, poverty, history, and class in this rural area of the Mid-Atlantic region.
A call for applications for the SUSI Summer Institute 2024 is expected to be advertised in late fall of 2023. For more information stay tuned to our website and social media.
EducationUSA Academy is a wonderful opportunity for 16–17-year-old students to visit a U.S. university and experience academics at the college level. This was the Commission's most competitive grant program this past year, showing that Icelandic students are eager to learn about college life in the United States. The Commission was happy to be able to offer two grants this year, thanks to support from the U.S. Embassy in Reykjavík. This year's participants were two first year students at the upper secondary level, Eybjört Ísól Torfadóttir, who is a student at Kvennaskólinn, and Þór Ástþórsson from Menntaskólinn in Reykjavik. They were selected out of a record number of applications for the Academy. Both participants attended the Academy at University of Wisconsin-Madison in July, which focused on Innovative Solutions for a Sustainable Future. Eybjört and Þór gained insights into the U.S. higher education system, which will be valuable as they ponder their future academic options.
Future EducationUSA Academy opportunities will be announced on our website and social media.