Rolling with the pandemic punches and taking time to make new friends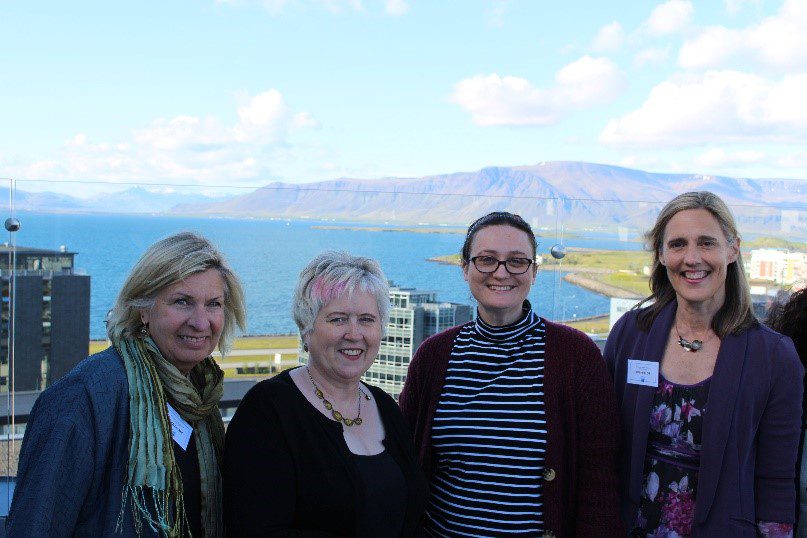 Rolling with the pandemic punches and taking time to make new friends
Message from Executive Director Belinda Theriault
Dear Fulbrighters and friends,
I hope this newsletter finds you in good spirits and excellent health. The 75th anniversary of the Fulbright Program is celebrated this year and Fulbright Iceland held its main celebration in February with Fulbright Iceland day, but we have of course also been following the many wonderful events put on by Commissions around the globe. The great work being done by Fulbright globally is inspiring, and we in Iceland are proud to be part of the Fulbright family. If you would like to follow some of the celebrations, go to  https://fulbright75.org/fulbright-days/.
I know we have all been doing our best to navigate through what seems like endless uncertainties on the pandemic roller coaster. Here at Fulbright Iceland, I feel we have been very fortunate. We have been able to continue our work, while always putting safety first, and have indeed had a very busy spring and summer and are moving into fall full steam ahead, adjusting as necessary as we go along. I hope you enjoy some of the highlights featured in this newsletter.
After doing all preparatory work with our outgoing Icelandic grantees on Zoom, it was such a pleasure to be able to meet them at a reception last spring at the U.S. Embassy, where we were able to observe social distancing rules. Over the summer, we hosted a Fulbright-Hays seminar in Iceland, welcoming 16 amazing educators from across the U.S. This was the first time Fulbright Iceland hosted this type of seminar, but hopefully not the last. This program, sponsored by the U.S. Department of Education, is a great way to show appreciation for exceptional teachers and give them an opportunity to gain new insights for curriculum development. We saw this as a great opportunity to add to our grant activities and do something new, not to mention make new friends in the U.S. education community. It was an honor and a privilege to lead the seminar, which combined expert lectures and discussions with field trips and hands-on activities.
In August, the Fulbright Association delegation visited Iceland and their program was prepared by the Commission. It was a great opportunity to meet with friends old and new. Earlier this month, when we had our orientation for incoming U.S. grantees, things had taken a turn for the worse due to the Delta variant, so we had to change our plans for an in-person meeting and revert to Zoom, to ensure safety. While it was disappointing, we focused on the positive and rejoiced in the fact that our grantees all arrived safely to Iceland and were able to move ahead with their projects. That is what is most important. Now things are looking up again and we look forward to meeting our U.S. grantees in person soon.
If there is one thing the past year and a half has taught us, it is that we must be able to get through the inconveniences, adapt and change behaviors.  We can only make decisions based on the best scientific information available, and then adjust to new information and realities over time. Innovation, creativity and determination are key to success in this environment. This pandemic has reminded us to focus on what is really important and ensure our behaviors align with larger societal interests. That is the Fulbright way.