Robert Dell receives the Partnership Award 2023
On Monday May 8th, the U.S. Embassy in Reykjavík hosted a reception where Robert Dell was presented with the 2023 Partnership Award. This award recognizes Americans who have demonstrated a deep commitment to fostering U.S. relations with Iceland and building bridges between our two countries. The Partnership Award was established by former U.S. Ambassador Charles Cobb in 1991, on the 50th anniversary of diplomatic relations between our two countries. The recipient of the award is selected by the Board of Directors of the Fulbright Commission Iceland.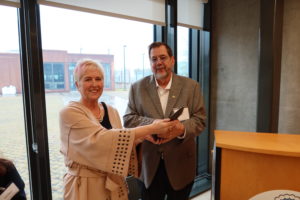 Robert Dell is is a sculptor, Founding Director of the Laboratory for Energy Reclamation and Innovation and Adjunct Professor of Mechanical Engineering at the Cooper Union for the Advancement of Science and Art. He first came to Iceland in 1988 on a Fulbright Scholar grant to work on the geothermal sculpture Hitavættur, which stands by Perlan in Reykjavík. He has returned many times to Iceland and built successful relationships both in the arts and science. He established formal ties with a number of Icelandic institutions and has an impressive research record with Icelandic colleagues.
Ambassador Cobb and his wife, former U.S. Ambassador to Jamaica Sue Cobb, came to Iceland to celebrate the recipient. Among other esteemed guests at the reception were two former Prime Ministers of Iceland, Davíð Oddsson and Geir Haarde, who also sits on the Fulbright Board of Directors, and the current Minister for Foreign Affairs, Þórdís Kolbrún Reykfjörð Gylfadóttir.