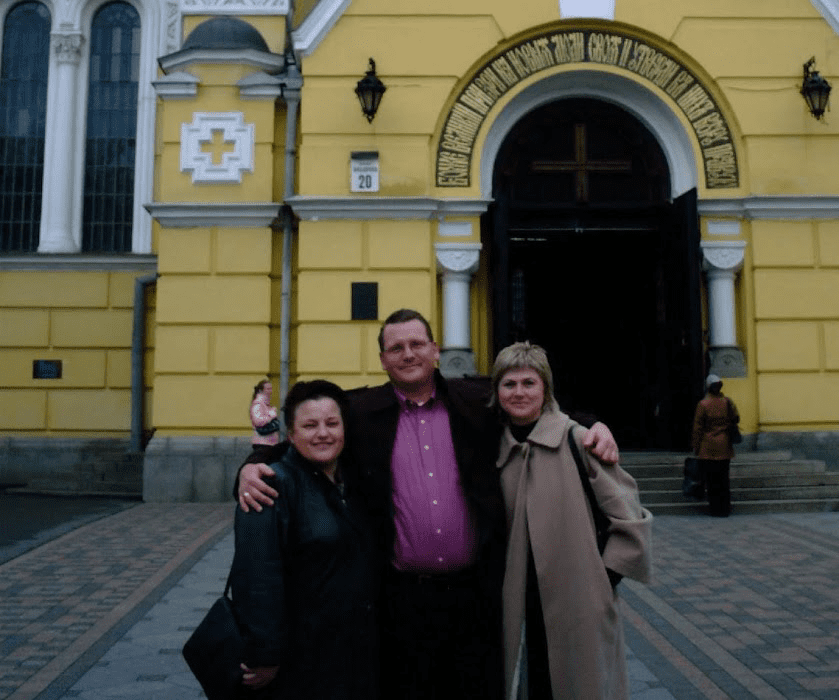 "We will be flying on an old Soviet plane–which is an old Soviet bus, with wings." These were the words whispered in my ear by Olah, my Ukrainian counterpart as I was participating in a civic education program in Kyiv and Lviv. Her description was spot on, and as we made the relatively short flight west, I couldn't help but notice a disturbance a few rows back. After a few moments, I looked to see that a body was strapped to a seat and covered with a black cloth. About the same time, I glanced out the window and noticed that the whole earth seemed to be on fire. My experienced companions did not seem disturbed in the least, so I settled back, wondering what I had gotten myself into.
It turned out to be a life-long love affair with Ukraine and her people. This particular occurrence was in March of 2006, and the relationship continues to this day, though I have managed to add many more friends and acquaintances over the years and see much more of the country.
My very first experience with a Ukrainian occurred in early 2000. I was a young teacher, and I had volunteered to help host a delegation of educators from Russia and Ukraine. I hosted Andriy, a linguist from Zhytomyr, for three weeks at my home. I guess my interest and eagerness was evident, as I was chosen to make a reciprocal journey in the fall of 2001. The events of 9/11 changed those plans, however, and it would be 2006 before I had my chance to travel abroad. Until then, I had not been outside of North America, though I was a traveler and adventurer. By then I had fallen in with a different group, more inclined toward civic education. I had opened up my classroom to a delegation, and they mentioned they would like to welcome me to Ukraine. My blood was pumping, but it would be almost two years before I heard another word. The group was leaving just a few weeks after I connected with them again, but my school was cooperative, and soon I was traveling across the Atlantic.
The trip was amazing on so many levels, and I learned so much. In particular, I learned that working globally to improve the human experience was a calling for me. Upon my return, I would continue to look for ways to engage with similar programs and share my experiences. As with many things about which we become passionate, what started as a trickle became a torrent. Though it was two years before I traveled abroad again, this time to Morocco for another civic education program. I continued to host visitors every chance I had, and as it turned out, I often hosted Ukrainians.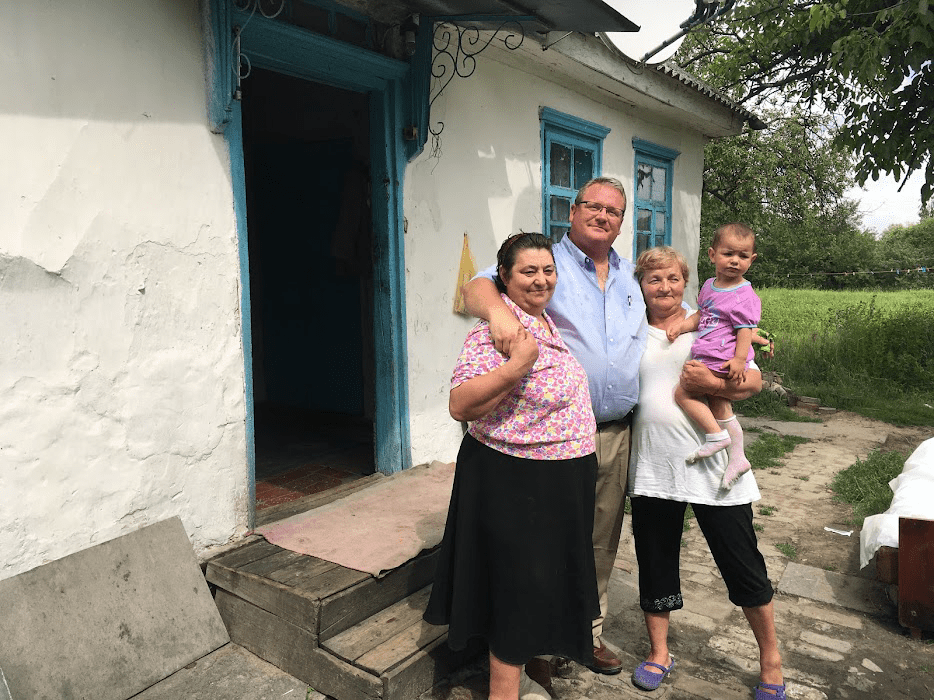 One hosting opportunity in particular led to forming bonds of lasting brotherhood. I do not choose the word 'brotherhood' lightly. Oleg and Volodymyr are two of my very best friends, and I do consider them brothers. They arrived one day in early June as part of an Open World delegation that was examining energy efficiency. My wife still refers to it as, "the 10 days I felt I was living in a fraternity house." I'm not sure she meant it as affectionately as I heard it.
They departed, and we kept in contact from the start. We began to formulate plans for further visits, and two years later, in the summer of '17, I was once again destined for Ukraine. Some years before, I had met Congresswoman Marcy Kaptur, now the longest serving woman in the U.S. Congress, and, who in 1997 founded the Ukraine Caucus. She had strong connections in Ukraine and started a foundation to help a small village in the heart of Ukraine. She asked if it was possible that I check in with the village. She also asked that I meet with the Roman Catholic Bishop in Kharkiv, to assess the status of a shipment of goods sent by the people of Ohio that was intended to help with the needs of Internally Displaced People due to the Russian annexation of Crimea and war in the east. The trip was intended as a social visit, but I was happy to assist.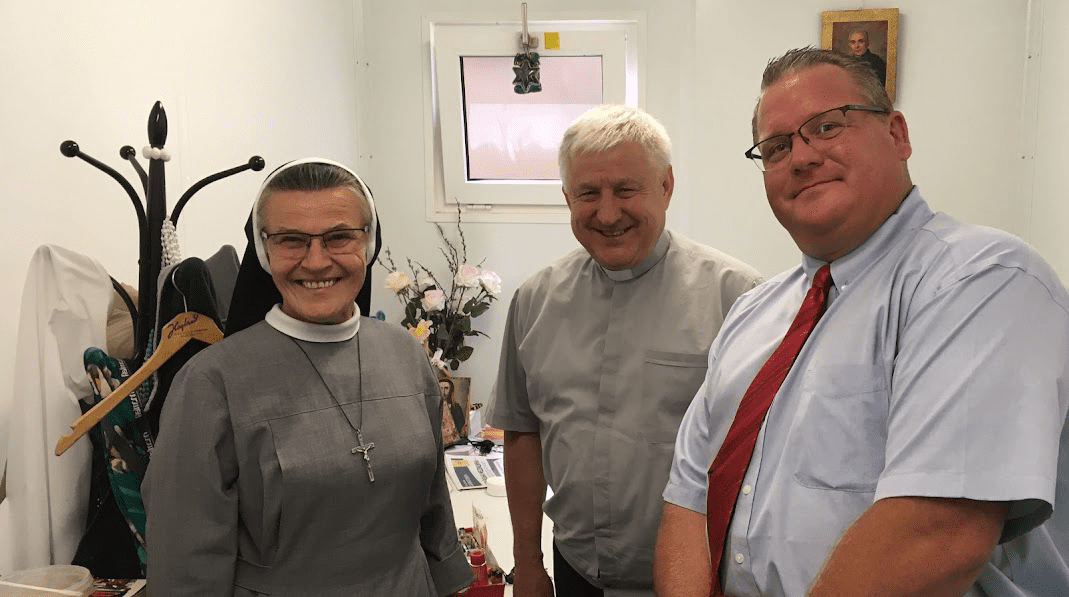 I also had the opportunity to visit a beekeeping business on the outskirts of Zhytomyr, where Sasha, a young woman I hosted on an earlier agriculture delegation, returned the favor by holding a very intimate garden lunch with her parents and grandparents in my honor. I even managed to find time to return for a quick visit to Lviv, where I met with a Fulbright TEA Fellow, Larissa, I had hosted for a time in my classroom a few years prior.
During the ensuing two years, I had the opportunity to help coordinate and host two more Open World Programs involving Ukraine. In December of '18, I helped coordinate the program for a delegation of Ukrainian members of Parliament (MP), and in the spring of '19, I hosted a delegation of Ukrainian Women of Agriculture. I learned much about policy and governing from the Parliamentarians. From the ladies I learned more of the challenges of day-to-day life, especially for those in more rural areas. Admittedly, I was surprised at how down to earth the MPs were, and they shared as much about life in Ukraine as they did about policy development. It was then I realized I was developing a pretty clear picture of the people and the country.
During the previous year, my friend Oleg had become a father, and I decided it was imperative that I visit my new "nephew." Following a similar pattern, I managed again to find ways to mix work and pleasure. I helped host a Moldovan delegation just months before and was invited to spend a week in Moldova consulting on a rural development program. I then flew from Moldova to Kharkiv to begin my next adventure.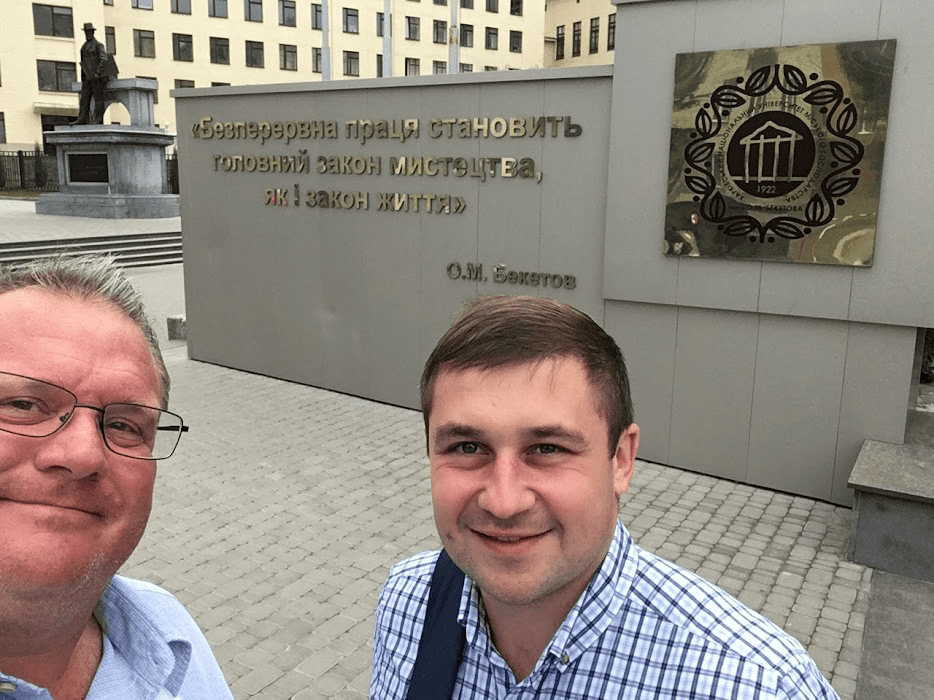 In Kyiv, Volodymyr had to work for a few days, so I set out to visit with three of the ladies from the agriculture delegation to see how they were implementing ideas developed through the program. I visited an onion and grain farm in Boryspil with Tanya's family, a garlic farm not far from Kyiv with Olga, and the lovely village of Levkiv by a second Tanya. There I was given a welcome fit for a king by what seemed like the entire village. While in Levkiv I also met a twelve-year-old boy from the village who I corresponded with when I hosted Tanya. His family prepared a huge feast entirely of products from their farms and greenhouses. It is difficult to think how life has changed so much for them recently.
The work was completed, and after celebrating another birthday, this time for Volodymyr's boss, we left the next morning for Odessa. Of course, it was time to return to vacation mode, and we really did. Every day was barbeques, garden parties, seeing sights, meeting more friends and finding the beach. For me it was just like paradise.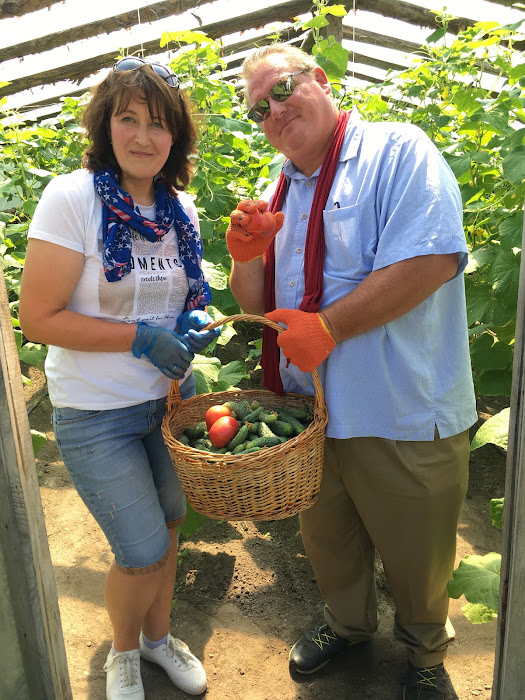 Recently my life seems consumed by trying to keep track of all my friends. Some have made it to relative safety, many others have chosen to stay. I am trying to help collect funds for body armor, armored laptops, night vision scopes, and humanitarian aid. Almost immediately I started a project to help find ways of delivering best practices in trauma-informed teaching and social-emotional learning for those who will be teaching and caring for the young victims. It was with grave realization that it became clear we needed to prioritize defense and humanitarian aid, but I have a team continuing to work on the education program.
I have been so fortunate to have had these opportunities to develop my passion for the world. They have made me into who I am today. Much of my work has been supported through various programs funded by the U.S. Government as well as state and local governments. Organizations such as Fulbright, USAID, Open World, IREX, The Center for Civic Education, The World Affairs Council of America, Erasmus+, The Great Lakes Consortium for International Training and Development, many universities, and even my local school board and administration have supported this important work.
I witnessed incredible changes in Ukraine over the last two decades. The rest of the world seems to be waking up to the fact that the people of Ukraine are incredibly resourceful and resilient. This war will surely leave indelible marks on her soul, but I have no doubt the people of Ukraine will come back swinging–like they have time, and time again.
It turned out the flames seen from the window of that old Soviet plane were from farmers burning stubble to prepare for planting. But those flames may have also kindled in my soul, a deep respect and love for the people of Ukraine.
William (Bill) A. Hilt is a middle school social science teacher at Hull Prairie Intermediate School in Perrysburg, OH. He is the President/CEO of the World Affairs Council of Northwest Ohio. In 2021 he participated in the Fulbright-Hays program in Iceland.