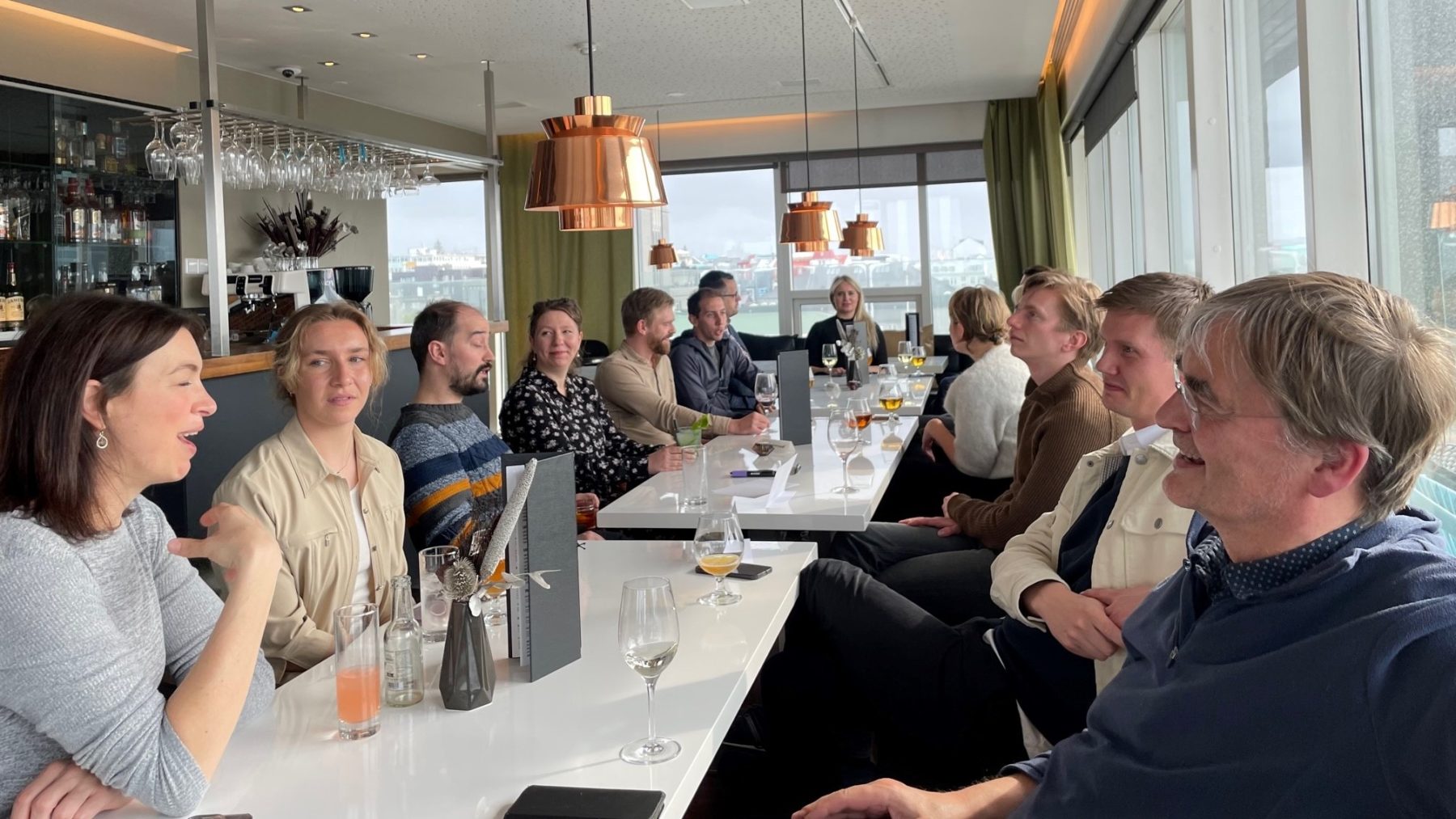 Our Fulbright grantees and alumni have had a busy year. Here are a few highlights.
CBS's 60 Minutes interviewed Fulbright alum Kári Helgason (2008-2009 Fulbright fellow) about capturing and storing CO₂ to fight climate change as a part of its coverage of the Icelandic company You can stream the episode on Paramount+ and read about the segment here.
Congratulations to 2022-2023 Fulbright fellow Hanna Þráinsdóttir, who at the end of last year was named one of nine student-athletes from the top 30 honoree pool as finalists for the 2022 NCAA Woman of the Year award. A total 577 student-athletes were nominated for the award, which recognizes women athletes from across the U.S. for their outstanding achievements in academics, athletics, community service and leadership.
Cayla Rosché (Fulbright-MFA Scholar 2022) has continued her cooperation with Iceland University of the Arts after returning to the U.S. She has been working this summer with an intern from IUA and part of their project includes making videos for the lyric diction of Icelandic songs. Recently they shared their first videos on their YouTube channel. They are continuing their collaboration on an article together about female composers in Iceland that will be published soon.
In August Fulbright Iceland alumna Julia Hectman opened the exhibition Not Once, a series of short video portraits, at the Reykjavík Museum of Photography. She began work on the project during her stay in Iceland as a Fulbright Scholar in 2019. The exhibition will be open until October 22, 2023.
Film director Óskar Þór Axelsson (Fulbright fellow 2001-2002) premiered his third feature Operation Napoleon (Napóleonsskjölin) in Iceland last February. The film had a limited theatrical release in the U.S. in early August and is now available on various streaming platforms, including Amazon.
Paul LaJeunesse, 2007-2008 Fulbright fellow, opened an exhibition of his paintings at Minneapolis airport in April. The exhibition titled Anima Mundi is at MSP Terminal 1, Gallery C6, until April 2024.
Ingibjörg Friðriksdóttir, 2015-2016 Fulbright fellow and FFSÍ board member, studied Electronic Music Composition at Mills College on her Fulbright grant. She released this summer a few singles under the name Inki from her upcoming album. You can listen to her music on Spotify.
At the end of last year, Bjarki Þórsson, 2021-2022 Fulbright fellow, accepted a position as a specialist in the Directorate for Legal and Executive Affairs at the Ministry for Foreign Affairs of Iceland. We congratulate Bjarki on his achievement.
Jón Kristinn Einarsson, 2021-2022 Fulbright fellow at Columbia University, is returning to the United States to undertake a PhD at the University of Chicago in Early Modern History on a full fellowship. We look forward to following his progress in the coming years!
Two-time Fulbright-NSF Arctic grantee M Jackson (2015 and 2019) will return to Iceland in November as one of the official guests of the Iceland Noir literature festival, joining a prestigious group of international and local writers, including Dan Brown, Neil Gaiman and the Prime Minister of Iceland, Katrín Jakobsdóttir.
The Fulbright Iceland Alumni Association (Félag Fulbright-styrkþega á Íslandi) held its annual meeting in February. Serving on the alumni board for 2023 are Arnór Gunnar Gunnarsson (chairman), Bergljót Gyða Guðmundsdóttir, Harpa Lind Jónsdóttir, Ingibjörg Friðriksdóttir, Kristján Theodór Sigurðsson and Sólveig Ásta Sigurðardóttir. Two Alumni Happy Hours were held in the spring, where the alumni invited current U.S. grantees and Icelandic grantees starting their U.S. grants this fall to join them. Upcoming alumni events will be announced on the Fulbright social media and in the FFSÍ Facebook group.
We encourage all alumni to send us a line to [email protected] when they have news to report.