Fulbright Hays Seminar inspires U.S. teachers to bring Iceland to their classrooms
We value the work that teachers do. So, we were beyond excited to host a Fulbright-Hays seminar this past summer. This was a first for our Commission, welcoming sixteen K to 8th grade educators from all over the U.S. for what many described as a once-in-a-lifetime experience. We got to know the group a bit beforehand through a series of Zoom pre-orientations and then sent them to Boston for an orientation session with some of our favorite friends, former Ambassador to Iceland Robert Barber, and two Fulbright Iceland alums, Dr. Janelle Knox-Hayes and artist Julia Hechtman.
Thus, our grantees were well prepared when they landed in Iceland on the morning of June 21st. After being briefly confined to their rooms while awaiting PCR test results, they hit the ground running for a whirlwind tour, starting with a week in the capital area, which was jam-packed with meetings and visits, covering a wide range of topics, including art, environment, the Arctic, equality, education, history, energy and literature. This first week laid the groundwork for a tour around Iceland, where field trips and hands-on experiences were complemented by expert lecturers and guides.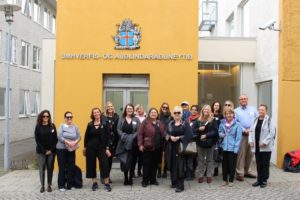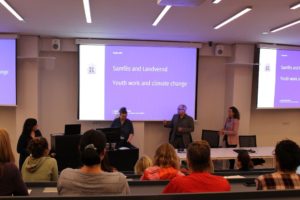 We are confident in saying that the seminar was a resounding success. This amazing group of educators returned home full of ideas for curriculum development and community engagement featuring Iceland. What a great way to promote mutual understanding!