Fulbright Forum – Presentations by U.S. Fulbright Grantees to Iceland 2020-2021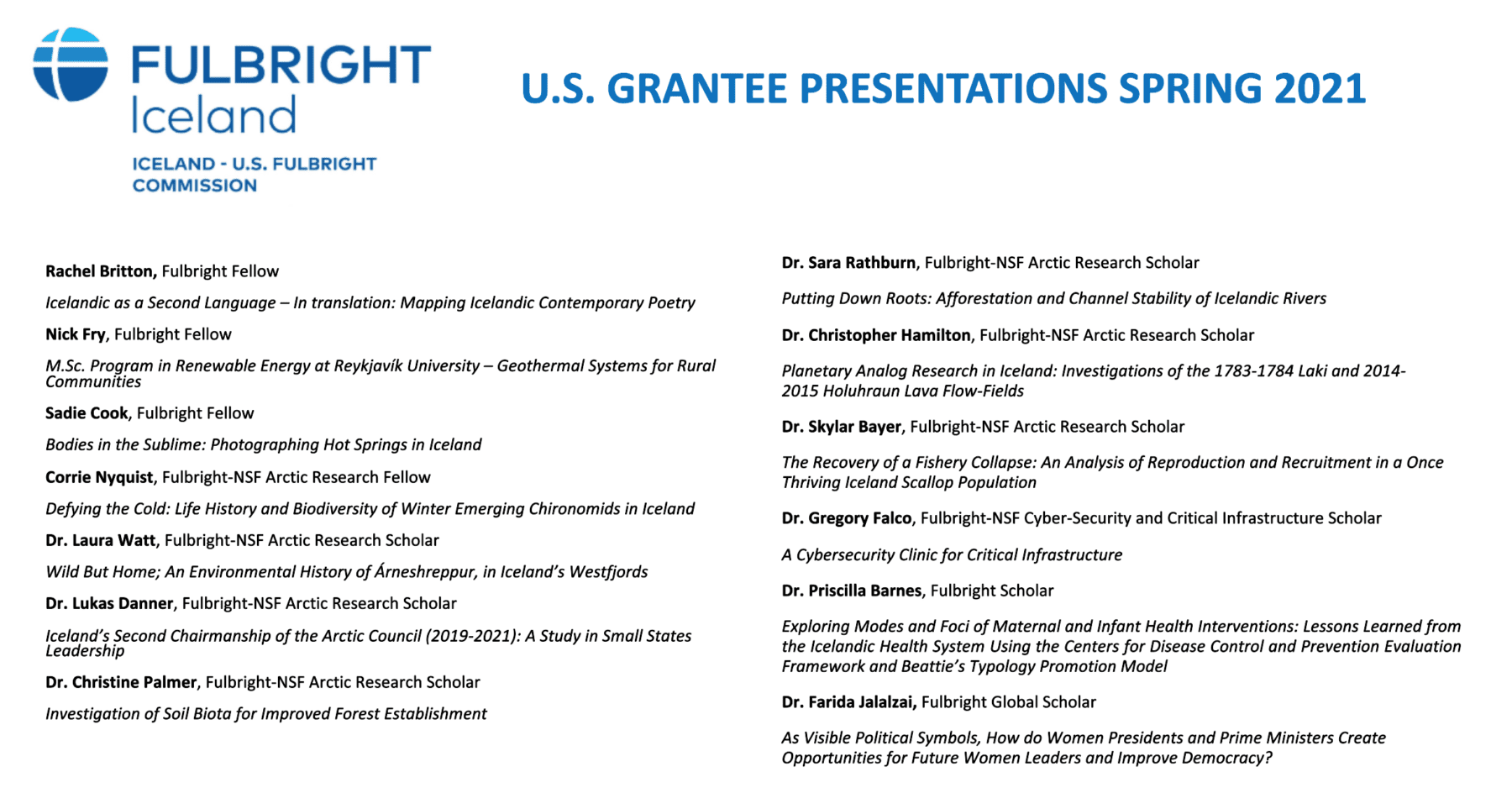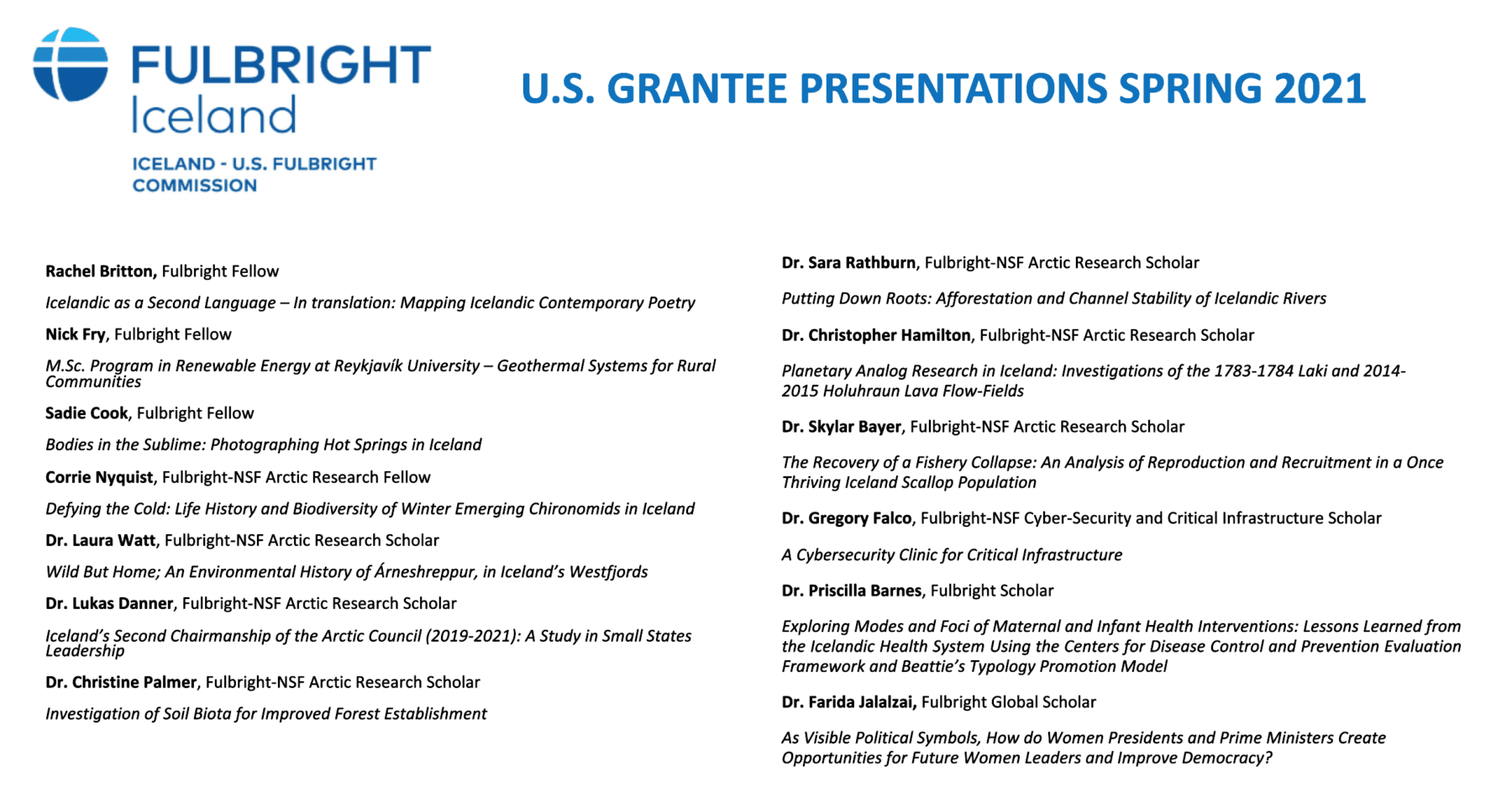 On May 10th, thirteen U.S. Fulbright grantees will present their projects and discuss their experiences in Iceland at a virtual event sponsored by the Fulbright Commission. The event will take place via Zoom, and all are welcome to join. Click the following link to access the Zoom stream:  
https://us02web.zoom.us/j/89038413536 
The program will be as follows:
09:15-10:40 
Opening and welcome: Belinda Theriault, Executive Director 
Rachel Britton, Fulbright Fellow 
Icelandic as a Second Language – In translation: Mapping Icelandic Contemporary Poetry 
Nick Fry, Fulbright Fellow 
M.Sc. Program in Renewable Energy at Reykjavík University – Geothermal Systems for Rural Communities 
Sadie Cook, Fulbright Fellow 
Bodies in the Sublime: Photographing Hot Springs in Iceland 
Corrie Nyquist, Fulbright-NSF Arctic Research Fellow 
Defying the Cold: Life History and Biodiversity of Winter Emerging Chironomids in Iceland 
Coffee break 
10:55-12:25 
Dr. Laura Watt, Fulbright-NSF Arctic Research Scholar 
Wild But Home; An Environmental History of Árneshreppur, in Iceland's Westfjords 
Dr. Lukas Danner, Fulbright-NSF Arctic Research Scholar 
Iceland's Second Chairmanship of the Arctic Council (2019-2021): A Study in Small States Leadership 
Dr. Christine Palmer, Fulbright-NSF Arctic Research Scholar 
Investigation of Soil Biota for Improved Forest Establishment 
Lunch break 
13:00-14:30 
Dr. Sara Rathburn, Fulbright-NSF Arctic Research Scholar 
Putting Down Roots: Afforestation and Channel Stability of Icelandic Rivers 
Dr. Christopher Hamilton, Fulbright-NSF Arctic Research Scholar 
Planetary Analog Research in Iceland: Investigations of the 1783-1784 Laki and 2014-2015 Holuhraun Lava Flow-Fields 
Dr. Skylar Bayer, Fulbright-NSF Arctic Research Scholar 
The Recovery of a Fishery Collapse: An Analysis of Reproduction and Recruitment in a Once Thriving Iceland Scallop Population 
Coffee break 
14:45-16:15 
Dr. Gregory Falco, Fulbright-NSF Cyber-Security and Critical Infrastructure Scholar 
A Cybersecurity Clinic for Critical Infrastructure 
Dr. Priscilla Barnes, Fulbright Scholar 
Exploring Modes and Foci of Maternal and Infant Health Interventions: Lessons Learned from the Icelandic Health System Using the Centers for Disease Control and Prevention Evaluation Framework and Beattie's Typology Promotion Model 
Dr. Farida Jalalzai, Fulbright Global Scholar 
As Visible Political Symbols, How do Women Presidents and Prime Ministers Create Opportunities for Future Women Leaders and Improve Democracy? 
Closing remarks, Belinda Theriault, Executive Director