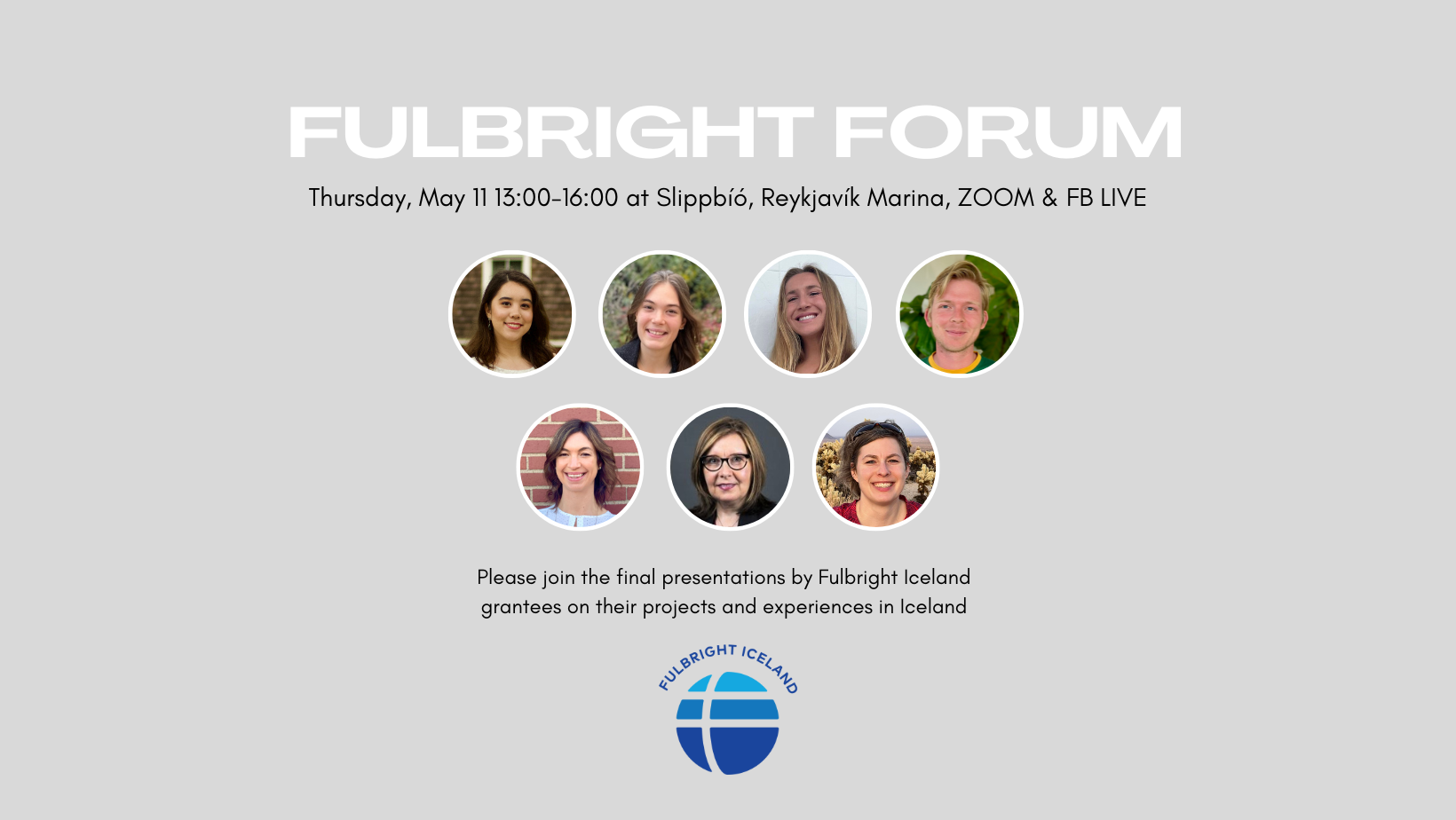 Final Presentations by U.S. Fulbright Fellows and Scholars
Join us on May 11th for an afternoon where seven U.S. Fulbright fellows and scholars will talk about their work and experiences in Iceland. We will be discussing everything from aluminum production processing to Arctic policy evolution.
What can our scholars and fellows tell us after 9 months of immersion into all things Icelandic? How is their work impacting Iceland-US relations?
Thursday, May 11 13:00-16:00
Slippbíó, Reykjavík Marina, ZOOM & FB LIVE
The event will also be live-streamed on Zoom and FB Live.
The program will be as follows:
13:00 Welcome: Belinda Theriault Executive Director, Fulbright Iceland
13:05 Brittaney Key Fulbright Fellow, M.A. Interdisciplinary Studies – Community Planning in Rural and Remote Communities
13:25 Bethany Bronkema Fulbright Fellow, Life Cycle Assessment of Iceland's Aluminum Production Process using Inert Metal Anodes
13:45 Sydney Fox Fulbrigth Fellow, Atmospheric Fallout of Microplastics: Procedures for Collection and Analysis of Samples
14:05 Erik Maher Fulbright-MoC Fellow, Icelandic as a Second Language
BREAK
14:45 Meghan Orman Fulbright-NSF Arctic Research Fellow, Developing Environmentally Sustainable Behaviors in Early Childhood
15:05 Dr. Áslaug Ásgeirsdóttir Fulbright-NSF Arctic Scholar, Evolution of Arctic Policy and its Impact on Priorities in the Arctic Council
15:35 Dr. Tenley Banik Fulbright-NSF Arctic Scholar, Exploring Connections Between Bedrock Geology and Atlantic Cod Populations in the Westfjords
16:05 Closing Remarks: Belinda Theriault Executive Director, Fulbright Iceland
Please register at [email protected] if you plan to come in person.