Advancing STEM through the Fulbright Specialist Program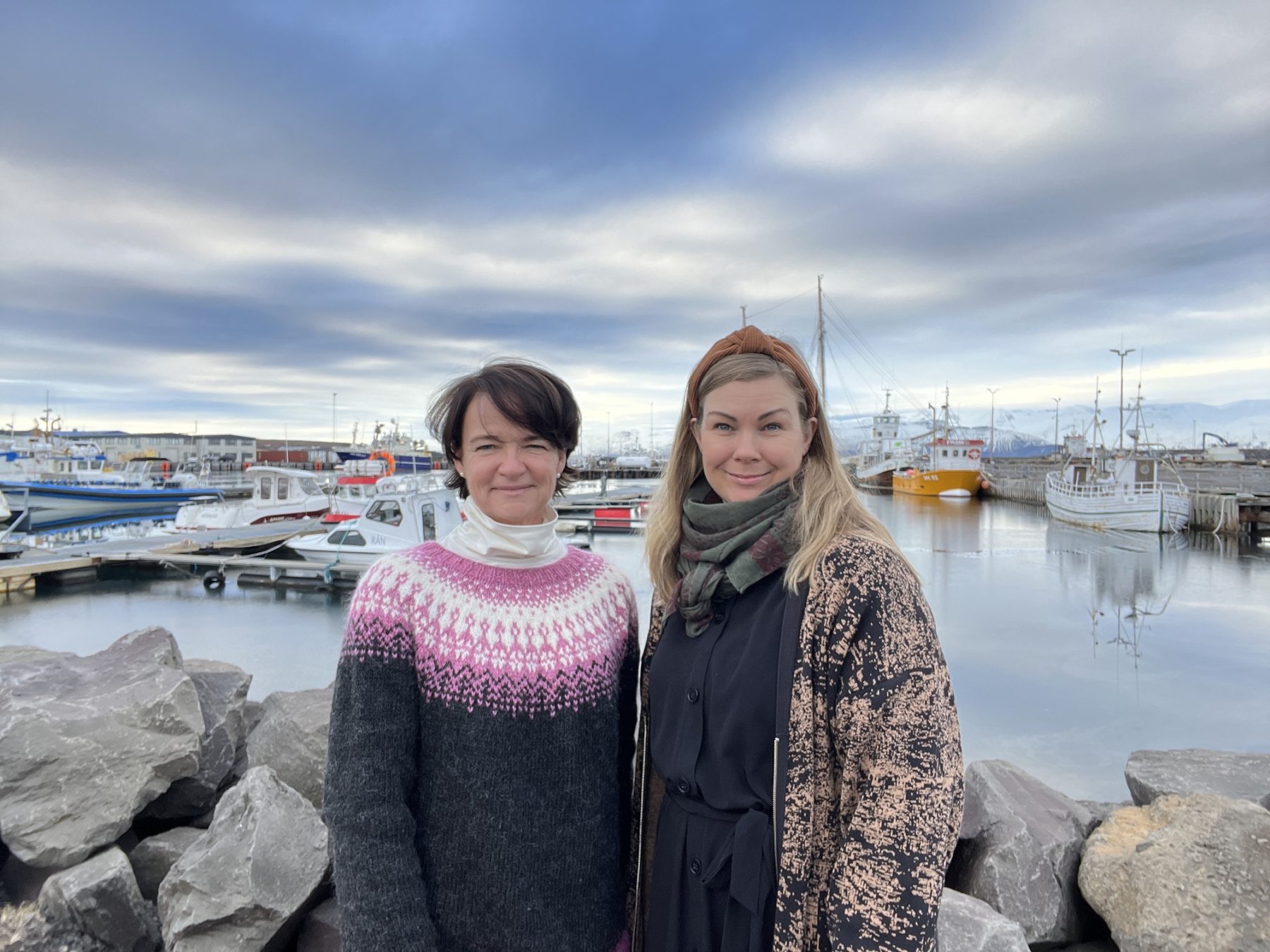 Bridget Burger (left) with host Huld Hafliðadóttir
Interview with Bridget Burger, Fulbright Specialist 2022
The Fulbright Specialist Program allows U.S. experts to visit partner countries for two- to six-week projects. This important program provides great opportunities to build capacity and collaboration in critical areas while fostering long-term connections.
Bridget Burger, Director of the Cape Cod Regional STEM Network, visited Iceland as a Fulbright Specialist in 2022, first in May and then again in October at the invitation of a young and ambitious community leader located at the Húsavík Academic Center (HAC), Huld Hafliðadóttir. Bridget and Huld constructed a project they called "STEM Húsavík". It is an understatement to say that this project has morphed into something much bigger than the original vision and has taken on a life of its own. We asked Bridget to tell us about the exciting developments that have taken place as a result of her Fulbright Specialist grant.
First, for some context, please tell us a bit about the original Fulbright Specialist project.
During the first Fulbright visit I worked with Huld at HAC to launch a new organization, STEM Húsavík. Using the U.S.-based STEM Learning Ecosystem model, STEM Húsavík brings together stakeholders across a variety of sectors, such as: academia, education, museums, government agencies, NGOs, community groups, research, industry, and even community members and families. STEM stands for Science, Technology, Engineering, and Math, and when taught using the STEM Learning Ecosystems model, builds not only core skills, but also soft skills such as communication, problem-solving, creativity and teamwork.
I led the advisory board through a strategic planning process where they identified the needs and resources in the community for STEM education and developed its mission statement and a 12 month action plan. The mission of STEM Húsavík is "to empower people and build skills by connecting diverse resources, nature and the community." After my visit I continued meeting with STEM Húsavík members to support the organization and implementation of the strategic plan.
During the second Fulbright visit several months later, I continued to support STEM Húsavík by helping and training Huld to develop youth and community outreach activities for North Quake, an academic conference on geosciences hosted at HAC. During this visit I also began engaging specifically with teachers and the local school leadership, leading a workshop on best practices in STEM education, and surveying them to solicit input. The result of this effort was a clear picture of what the teachers currently want and need to provide high-quality STEM education.
What happened to the project after the end of your Fulbright visit and how have you continued to be involved? Has the project received additional funding after the visit?
Since its inception, this project has been continuously thriving and expanding, creating even more positive impact. It has been really exciting to watch these efforts take off and grow.
Since October, I have continued to be involved in training Huld in STEM education, organizational leadership, and building capacity through program development and grant writing. After my Fulbright visits, I worked with Huld to write several grant proposals based on the results of the workshops and surveys, in order to continue this important work in the Húsavík community.
STEM Húsavík received early funding from the Ministry of Higher Education, Science and Innovation's Lóa Fund to further expand STEM Húsavík. These funds were critical to enabling me to continue to work with Huld to further strengthen the organization, as well as for Huld to establish and secure her position at STEM Húsavík. Out of this, Huld created a website, www.stemhusavik.is, a podcast series, convened monthly community lunch meetings on STEM topics, and strengthened partnerships in the community.
We also received a grant from the U.S. Embassy in Reykjavík to establish a Lending Library of high-quality materials and offer a series of workshops for teachers around those materials. So far, we have offered five professional development workshops for kindergarten through college educators, and gave the final workshop funded through this grant earlier this month. The STEM materials we purchased with the grant range from robots, terrariums, and microscopes to building blocks, math games, and even a school-wide family math night event kit, which I am especially excited to introduce to Iceland in this project.
This summer, a grant from Children's Culture Fund of Iceland enabled us to offer a nature camp, where through additional support from the Lóa Fund, which provides funding for innovation projects in rural areas, I could use my background in environmental education to design and lead camp activities with Huld. Through a recent grant from Iceland's Youth Fund, we are also offering a robotics and coding club this fall, where I will be training and mentoring coaches using the Lego robotics competition platform. These various projects have enabled us to figure out what works for STEM education in the Icelandic context, and they are all great pilot projects that we can one day expand upon to benefit other communities.
How did the project then start to expand to other areas of Iceland?
With all this activity, we started to get inquiries from other communities in Iceland interested to learn more about our work and bring it to their communities. It is only natural that we developed plans to expand into other areas of Iceland. We have therefore established a national organization, STEM Ísland, to support the expansion of STEM Learning Ecosystems in Iceland. We received funding again this spring from the Ministry of Higher Education, Science and Innovation's Lóa Fund to support this. We are actively seeking more sources of support to fully fund this project in Iceland.
And now there have been more exciting developments, and the project is going international, if I understand correctly. Tell us about that.
That is correct. We recently received a grant from the Northern Periphery and Arctic (NPA) Programme of the EU, which focuses on capacity-building in rural communities of the NPA region. Through this 18-month project we will use the STEM Learning Ecosystems model to launch pilot projects in Ireland and Finland, with a focus on girls and women in STEM, creating a manual for other NPA communities to use. In addition, we just received a Horizon grant with partners in the EU to work on projects focused on girls and women in STEAM, which is STEM integrated with Arts across the wider curriculum, in Europe.
What has been the impact of this six-week Fulbright Specialist project on your own life and career?
It has been transformational, and I absolutely love the work that I have done as a Fulbright Specialist. I enjoy that this work continues to bring me to new places and that I get to work with amazing people along the way. This has been a tremendous catalyst for me personally and professionally and has opened doors for me into a whole new life. It has helped me to step into my role as a leader in my field, and at the same time, has enabled me to expand the impact I am able to have through my work.
I am planning to take a leave of absence from my position as Director of the Cape Cod Regional STEM Network at Cape Cod Community College to pursue a PhD in Education at the University of Iceland full-time, where my research is focused on Ocean Literacy and how to support teachers to teach about the ocean. I am also working with Reykjavík University on launching a new masters' degree in Digital Transformation as part of a European Digital Innovation Hub in Iceland, funded through the EU Digital Europe Programme. It is exciting to see how the initial spark has turned into a flame and is spreading, in so many positive ways, in such a short time. I am super inspired, and grateful for this opportunity.
—
Fulbright Iceland is proud to have provided resources to help get this important project off the ground. We are excited to follow future developments and do not doubt that it will continue to grow and bring benefits to the high north. The project, and the two women who started it all, Bridget and Huld, give us a shining example of how impactful a Fulbright Specialist project can be, both for the local community/field, the host and the Specialist.
Feeling inspired by Bridget's story? We encourage Icelandic institutions to check out how the Fulbright Specialist Program could help them reach their goals. See our Specialist Program website.
We also encourage Americans interested in serving as a Fulbright Specialist to apply to the Fulbright Specialist Roster and to proactively reach out to Icelandic institutions that could benefit from collaboration. To apply to the roster, see https://fulbrightspecialist.worldlearning.org/